So Happy My Face Hurt From Smiling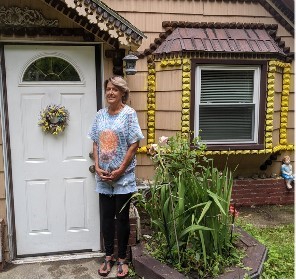 The house looks like something out of a fairytale with its cobblestone walkway, ornate wood accents, and gardens. Michele describes it as her dream home, "I was so happy my face hurt from smiling!"

It took a lot of hard work and healing to get that smile on her face. Michele had a job she loved but had to make the difficult choice to quit in order to care for her ailing fiancé. He was sick for some time, and they did their best living on his income. Sadly, he lost his fight, and she found herself homeless and alone.
She lived with friends for as long as possible, but she knew it was not a long-term solution. That is when she found Homeless Solutions. The trauma of homelessness caused her to become depressed, and she turned to alcohol for comfort. Michele knew that she needed to be clean and sober to stay at our shelter. "Coming to the shelter was the best thing I could have done. They treated me like a person, not a loser or a number. They gave me an opportunity to get on my feet, address my medical and my mental health issues, and find a home I love and can afford."

The thing that struck her the most was how the staff and community pulled together to help everyone. "I cry every time I think about the kindness shown to me while I was at the shelter. The restaurants struggling during the pandemic fed us, volunteers cooked for us, I got gifts for the holidays and clothes and even furniture for my new home."
She was excited about her upcoming interview and felt optimistic about getting a job. "I am extremely grateful to everyone that helped me become whole again. I would not be where I am today without them."
Learn more about how to help others like Michele: https://homelesssolutions.org/how-you-can-help/?v=914fddbcac3b&bblinkid=257787574&bbemailid=37833910&bbejrid=-2048749227