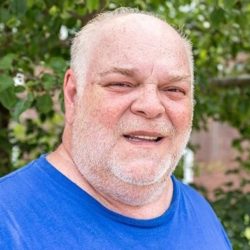 Sal's life has been forever changed. He is grateful for the assistance from HSI in not only ending his cycle of homelessness, but also reconnecting him with his family.  
---
Meet Salvatore. He entered our Safe Haven Program as a 55-year-old man with just the clothes on his back, a social security card, and an expired out-of-state license. Our goal became clear. In order to end his homelessness, we needed to get Sal proper photo identification.
Obtaining a photo I.D. for Sal was quite the feat. It started with help from the Office of Temporary Assistance, where they located a photocopy of his Italian passport. During this search, we learned that Salvatore had actually emigrated to the U.S. from Italy when he was only a small child, memories of which Salvatore had no recollection.
His story then took an unbelievable turn. Due to diligent work by our Case Management team and the Mental Health Association, we tracked down Sal's only living brother. The reunion between the two brothers was heartwarming and emotional. They had not spoken in nearly four years, which was when Salvatore first became homeless.
With the reunion came an extra special bonus, Sal's brother had his original birth certificate. This was more than a piece of paper for Sal, it was a life-changing document that opened so many doors for him. It was the pathway to end his homelessness. Sal is extremely grateful for all of the assistance he received at HSI, "I never imagined this outcome when I arrived at the Shelter. The HSI staff not only helped me end my cycle of homelessness but they reconnected me with my family. My life is forever changed because of Homeless Solutions."