Our CEO wants YOU to join him for a unique and impactful experience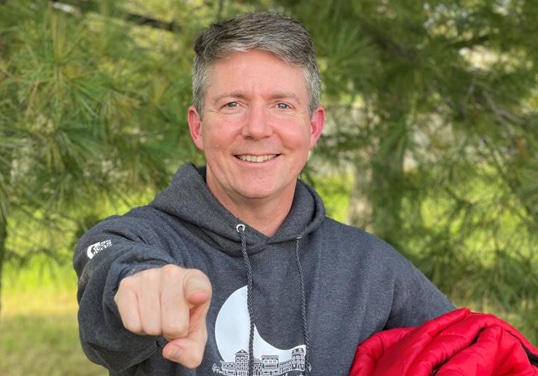 On Saturday, December 4th, our CEO Dan McGuire will be participating in our 2nd Annual A Night in the Cold fundraising event. He will be sleeping outside to help raise awareness and funds for our homeless neighbors in need – will you join him? It's open to all ages and can be done individually or as a team with friends, family, colleagues, sports teams, and volunteer groups.

Where and how you participate is up to you! You can spend the night in a car, a tent, or a sleeping bag. These are among the ways our street homeless neighbors struggle through the night when they are without shelter. Last year, some of our younger participants chose to sleep on their kitchen or garage floor. The choice is yours.
As Dan put it, "It's not a "walking a mile in their shoes" situation. Really, we're just barely trying the shoes on, so to speak. We're going to make it through the night partly because we know we have a warm bed, hot shower, and meal waiting for us when the sun comes up. Our street homeless neighbors have none of that, and trying to sleep while thinking about daily survival is part of what makes homelessness a trauma."

The event was an overwhelming success last year, with over 150 people participating, raising more than $173,000. The bar is high this year with a goal to raise $275,000!
100% of the funds raised will support the Shelter Programs & Services at Homeless Solutions. By participating in this event, you will help provide a warm, safe place for homeless men, women, and families as they rebuild their lives.
Many reasons bring homeless people to our doors. Sometimes they can no longer afford rent despite working three low-wage jobs and are evicted. Others are struggling to recover physically and financially from a debilitating illness or injury. Or perhaps they have been abandoned or abused by their partner, leaving them to care for children on their own without sufficient financial resources. Raising funds through A Night in the Cold will make a difference!
Our participants from last year are looking forward to being part of it again. Many shared it was a humbling experience. They felt proud to raise funds and help give a voice to the hundreds of homeless members of our community and let them know they are not alone.
Register now: https://p2p.onecause.com/hsinight2021

Questions? Contact Sandra Rodriquez (SandraRodriquez@hsinj.org)