NJBIZ 40 UNDER 40 HONOREE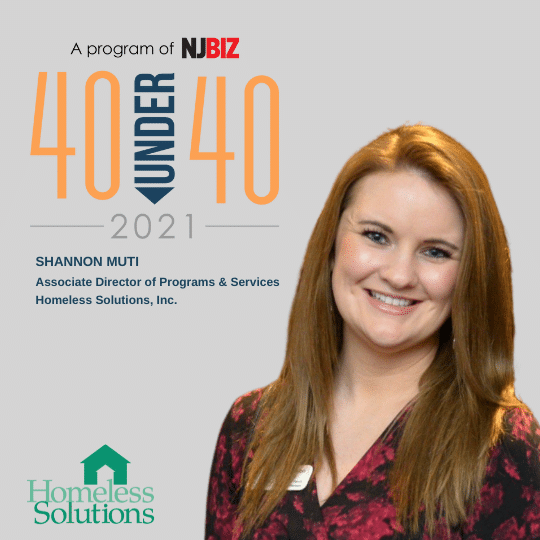 Please join us in congratulating our Associate Director of Programs & Services, Shannon Muti, for being selected as an NJBIZ 2021 Forty Under 40 Honoree! This program recognizes 40 businessmen and women under the age of 40 for their notable successes and demonstrations of strong leadership in the state. The competition was fierce this year, with over 600 applications.
It is well-deserved! When you read Shannon's response to the committee's question below it will be obvious why she was selected.
What is your greatest professional achievement so far?
"This is hard, as so much of what I have done in my career is not quantifiable. I am in the business of helping people, and when I think of my greatest professional achievement, my mind flashes with the small moments: Sitting in a police station at midnight rocking a baby to sleep while her mother waits for a restraining order – Explaining the circumference of a circle to a single dad so he could help his son with his math homework – crying with a homeless teenager as she opens her acceptance letter to Harvard – driving a group of homeless kids home from a robotics competition with a trophy in hand – to the days of COVID when I sacrificed my own safety to make sure everyone in our shelter survived.

I could tell you something like – under my leadership, hundreds of people have moved from homelessness to homes – but the truth is, my proudest achievements are those small moments – the ones where I knew the person sitting in front of me felt cared for, respected, empowered – those moments when they realized they could believe in themselves again – because that is all I've ever aimed to do."

Thank you for all you do for HSI and the people we serve.  You go above and beyond everyday, and your leadership and passion make an everlasting impact.  Congrats!
Want to send your congrats to Shannon? Comment on social at Facebook, Instagram or LinkedIn