Local Candyman with a Sweet Tooth and a Big Heart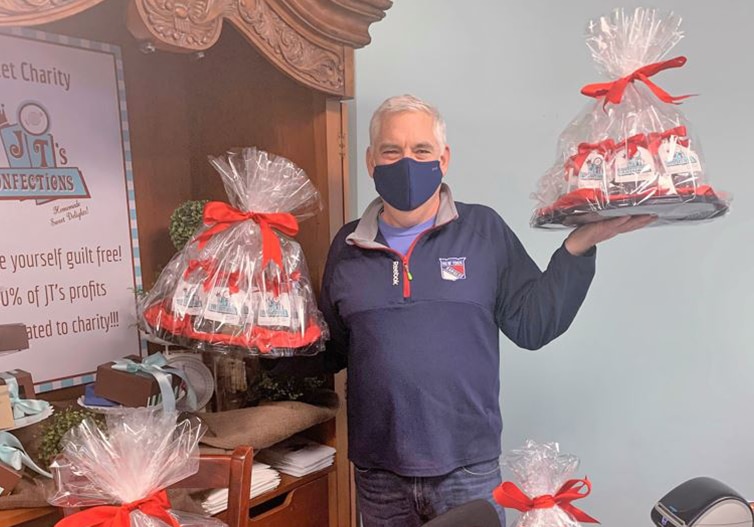 When John Tompkins, affectionally known as JT, is not cracking us up with his jokes, he is sharing clever ideas on how to help his favorite charities. His latest idea is "Change for Change." Stop by the store with a jar of change and get free chocolate! You can choose from a box of chocolate-covered Oreos or chocolate pretzels. The proceeds will be shared with his favorite local charities to help make a change in the lives of those they serve.
His love for candy started in fourth grade when JT got a taste of his neighbor Mrs. Cook's homemade caramel. He never imagined that he would one day work hard to recreate her recipe in his own candy shop.
After a successful career on Wallstreet, JT retired and was looking for ways to fill his time. This is when his passion for candy-making began. He opened JT Confections in Randolph in 2011. The shop was doing well, and in a few short years, he started making a profit. His wife Sharon suggested they do something good with this success. Sweet Charity was born, and now 100% of the profits are donated to charities near and dear to them. Homeless Solutions is honored to be one of them. He says he gives back because, "I was taught that if you can help someone, do it. I can, so I do, and it's the best job I ever had!"
He generously donates Easter baskets for the children in our programs and a unique chocolate experience for our Dream Builders' Bash auction. Join us on April 30th, and maybe you can win this year! We also get delicious treats throughout the year for our shelter guests.
We know firsthand that he perfected the caramel recipe and, in his words, "makes the best chocolate evaaaah" and we agree! We got the rare opportunity to watch him in action. Check out our candy-making video with JT:
There are many charities close to his heart, and he shared why he supports HSI, "It's not just one thing, its the totality of what HSI does. They help good people get back on their feet." We are grateful to JT for his philanthropy and all he does for HSI.
Consider stopping by JT Confections this weekend with your change, and maybe grab a special treat for you or a Valentine.